Event Information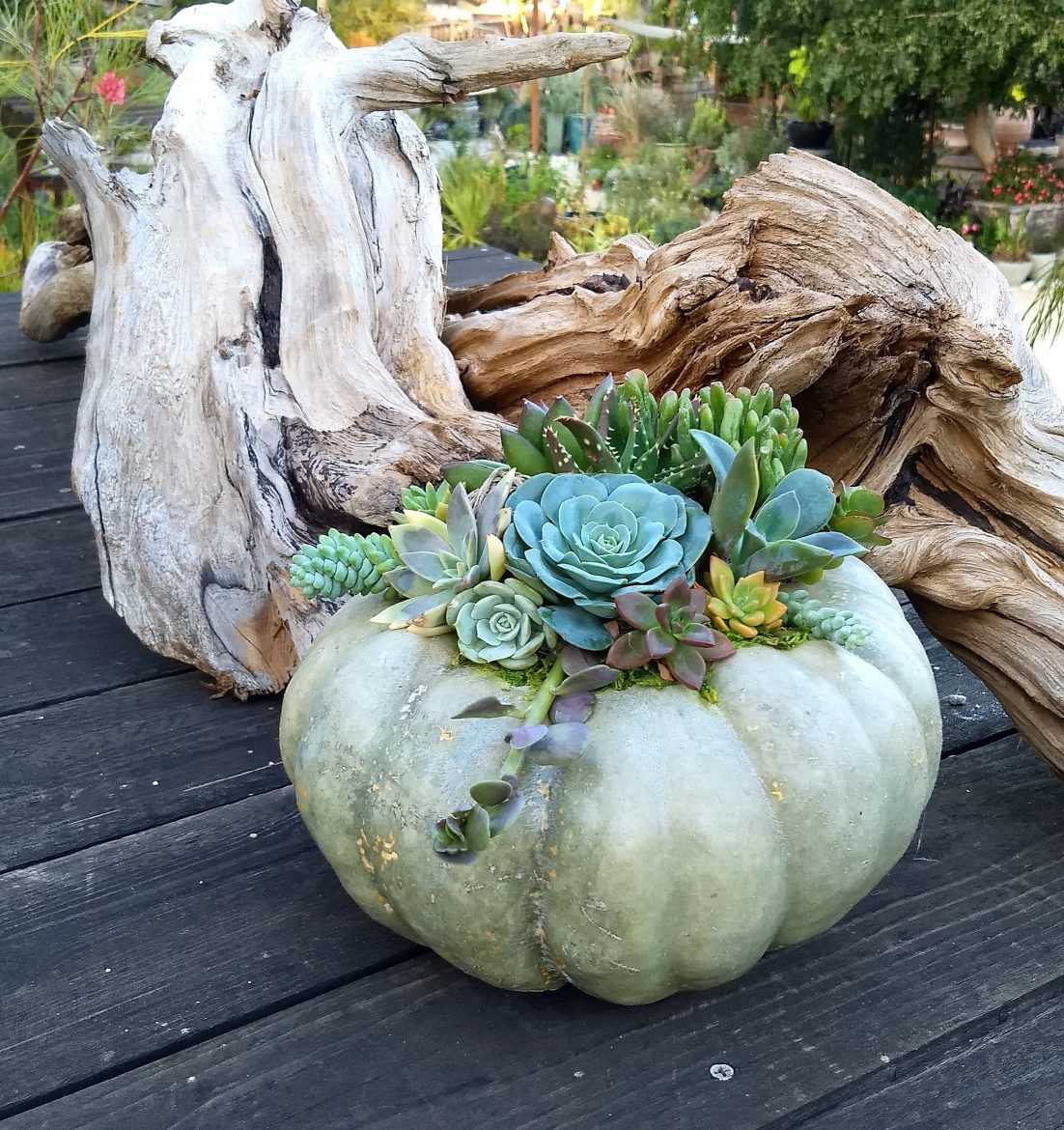 Succulent-Crowned Pumpkin Workshop
Sunday, October 6,        2pm – 4pm
In this fun workshop, Rachael from Infinite Succulent will teach you how to create your own autumn-inspired succulent-crowned heirloom pumpkin arrangement.
Succulent-crowned pumpkins are perfect additions to your autumn decor, and will be a statement piece for your Thanksgiving table and even beyond!  Rachael will guide you through creating and maintaining your living autumn centerpiece, and will also provide instructions for disassembling and replanting your succulents. These beautiful centerpieces typically last 4-6 months before you will start to notice the pumpkin starting to go – the plants can then simply be removed and replanted into your garden or a pot.
Workshop supplies include a medium-sized heirloom pumpkin, succulent plants and clippings, moss, pine cones, and dried autumn botanical embellishment options as well as instruction and any tools necessary will be provided.  Session will run for 2 hours.
$65 per person payable upon registration via PayPal.  Please note that if you pause during registration and the PayPal system times you out, registration isn't complete.  Registration is only complete once PayPal sends you a payment confirmation email and our workshop system sends you a registration confirmation email.  For any questions, please email events@barrelsandbranches.com.
— Workshop fee is non-refundable 24 hours prior to workshop.
— If class minimum of 6 students isn't met, workshop may be cancelled.  If cancelled, fees will be reimbursed.
About the Instructor:  Rachael Cohen is the creator and owner of Infinite Succulent, a botanical styling, art and educational service dedicated to reconnecting people with the infinite power of Nature, and ultimately themselves. Rachael's life mission is to reconnect and engage others with the natural world. With @infinitesucculent, she achieves this mission through botanical décor styling, art pieces and writings along with educational workshops and presentations, all of which touch upon environmental stewardship. Rachael is also the author of the succulent craft book, Infinite Succulent: Living Art to Keep or Share (Countryman Press, 2019).
Date/Time
Sunday October 6, 2019
2:00 pm - 4:00 pm
Bookings
This event is fully booked.
Location
Barrels & Branches