Event Information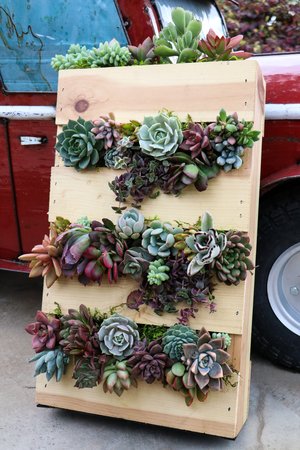 Plant-It-Up Succulent Pallet Workshop
Saturday, July 21,        10am-12pm
Have you been wanting to own your own succulent pallet but thought you didn't have the room?  We have just what you need — an extravagant and portable pallet, handmade by you!  Join the Lighthearted Homes team and Succulent Kim to get your hands on a unique piece that is sure to light up your home!
In this workshop, each participant will receive all of the goodies including the prepped pallet with soil, moss, and all succulents necessary for the project.  Plus, you'll receive a "how to" on the pallet assembly and a sweet surprise from the LH Team!  Succulent Kim will give you the scoop on succulent care and planting as well as putting together your pallet design.
Pallet dimensions:  20″ tall, 12″ wide, 3.4″ deep, perfect to hang on a wall, stand on a desktop, or even lay flat as a centerpiece for your tablescape.
Register at the Lighthearted Homes website:
https://www.lightheartedhomes.com/products/plant-it-up-with-succulent-kim-and-barrels-branches
Limited spots available.  No Refunds.  If unable to attend, contact Lighthearted Homes to make arrangements.
 About Lighthearted Homes:  We are dedicated to handcrafting high quality home, garden, and hobby items.  Our motto is "Filling homes with warmth and love is our passion.  Family is foundational and what better place to meet than at home?"
Date/Time
Saturday July 21, 2018
10:00 am - 12:00 pm
Location
Barrels & Branches